2000, 2001, 2004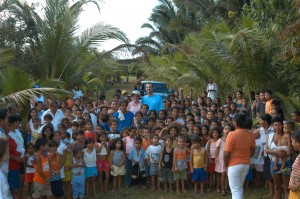 Red Rover Ventures partnered with a Brazilian NGO called Casi Do Pi, Rotary International, and several local Michigan groups. This partnership over several years provided;
A shelter/Orphanage land acquisition and construction project supporting 50 street children
School supplies for over 200 children, enabling school attendance
Educational Assistance and skills for training for severely impoverished women, providing a source of income for the women, and enabling 50 of their children to attend public school.
Construction of a water tower to store clean water.
Desperate Street Children
We flew into Porto Velho in the state of Rondonia, Brazil, the stench of the mounds of garbage next to the "Princess (Trash) Village" where families live in cardboard boxes and metal hovels is unthinkable. The conditions they live with is like nothing we had ever seen. Porto Velho is in a remote area of Brazil. The Street Children came from seven different villages and most of them have no parents. The state of Rondonia has no adoption agencies in place. When we pulled in hundreds of kids swarmed on us. They were so excited and anxious to be with us. We were initially there to help check children for poor eyesight. Besides eye screenings, we helped a missionary couple buy shoes for the street children. 10 dollars bought a pair of shoes, a shirt and paper and pencil. We bought real lace up shoes for 229 children.
Princess "Trash" Village
In the trash village over 100 families live in the middle of all the garbage. We had to put Vicks under our noses to try and block out some of the strong odor. Those children who live in the trash village can't get a glass of clean drinking water and there is no place to bathe. "I cried myself to sleep many nights trying to make sense out of the plight of those families and the children who live on corners or under trees."-Dr. Robin Ross
Red Rover Ventures partnered with local Rotary clubs in Brazil, along with grant money from the International Rotary, and helped build a first class water tower with refrigeration to cool the drinking water for the first time.
Ophthalmology Care /Training Program
We left the city of Porto Velho to help with eye care for the Mura-Piraha (Pina-Hi) Tribe of the Amazon River. We helped provide a generator for the medical house that services them. We set up an eye clinic in a private hospital. Dr. Ross, and Brazilian ophthalmologists, Dr. Aduato and Dr. Lhano, then examined and treated approximately 500 children. Red Rover Ventures provided educational assistance and training, along with surgical equipment to the two ophthalmologists enabling advanced surgical techniques and procedures for their patients.
Medical Clinic
Red Rover Ventures partnered with JOCUM (Youth With a Mission) in northern Brazil to complete a fully functional medical clinic, malaria lab for testing and diagnosis. Besides the local poor that were given access to health care, many indigenous Indians were also given access to normally unavailable care.